Planning an outdoor party and worried about New England weather?
Sun, rain, maybe even snow? No problem!
We have frame tents, clean air tent heaters and everything else you
will need to bring your outdoor party to life.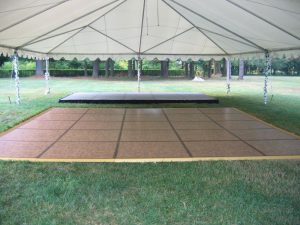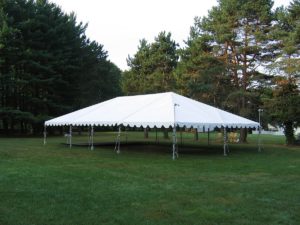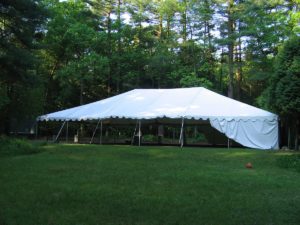 All White Frame Tents
No Center Poles Are Used
---
2023 Tent Availability and Pricing
Large tents are in high demand, thus availability is very limited. We don't stock large tents, we sub-rent them from other companies. We have several companies we rent tents from, but prices vary greatly and some are already booked up for May and June 2023 events.
Note: Marquee's only available with tent orders
10′ x 10′
10′ x 20′
15′ x 15′
20′ x 20′
20′ x 30′
20′ x 40′
20′ x 60′
20′ x 80′
20′ x 100′
400
600
800
1200
1600
2000
30′ x 30′
30′ x 50′
30′ x 70′
30′ x 90′
30′ x 110′
30′ x 130′
900
1500
2100
2700
3300
3900
40′ x 40′
40′ x 60′
40′ x 80′
40′ x 100′
40′ x 120′
---
The availability and style of tent sides, as well as the weights that are used to anchor tents on asphalt also varies depending on the tent company.
Please call for a quote. We can put together a list of what you'll need, which will help us determine the size of the tent. Once we have all the information we will try to find a tent for you.
Also, some tent companies require 50% to reserve and the balance 1 week before the event. Once we find you a tent we'll explain the details and take your deposit.
State law requires that all tents be fitted with lighted exit signs, no smoking signs and fire extinguishers. We'll provide all of it for additional charges which will be itemized on your contract, how many of each you need depends on the size of the tent.
Dance Floors – Wedding dance area should be 3 square feet per person.
Deposits
All frame tents require a deposit in order to place a reservation. This deposit is NON-REFUNDABLE if the tent is cancelled.
We hold the deposit until the order comes back to ensure that you follow the pickup instructions. Such as re-stacking the tables and chairs and removing your own furniture and decorations.
Contact Dig Safe
You are required by law to call DIG SAFE before the tent is installed, we won't install without the DIG SAFE NUMBER! DIG SAFE requires that you call "811" at least 3 business days before the tent is to be installed. Visit online at
DigSafe.com
Permit From Your Town
Furthermore, you are also required to get a permit from the town that the tent is to be set-up in. The towns will require a FLAME RETARDANT CERTIFICATE which we will provide. Give them the certificate, fill out the form and pay their fee, most towns are $25-50, some are more.