Lecturns
Portable Amp
Comes with a full size wireless microphone, or the lapel mike in the pic. It has two 5 watt speakers. Runs on electricity or included battery.
Full Size Podium with Sound
Runs on rechargeable battery.
Wireless mics are $30.90 each – Model is Acclaim 2 from Anchor Audio.
>> Both made by Anchor Audio, mics for Liberty & Acclaim are interchangeable.
– Has a $45 non-refundable deposit to reserve it.
Puts out 113 DB
Battery lasts 6-8 hours, comes with cord to re-charge.
It has a fixed flex mic on podium, can use up to 2 wireless mics also.
– Wireless mics are extra charge, we have hand held, lapel and over ear. Any combination of 2 may be used together.
– Wireless mics have a range of 300′ as long as there are no obstacles. Operates on 1.9 Ghz wireless frequency.
– It will handle an audience of 500-1,500 people indoors and less outdoors.
– Base measures 30.5″h x 21.5″w x 19″d, weighs 42.5lbs.
– Top is 21.5h x 15.5″w x 8.5″d, weighs 29.5 lbs, the top folds up and fits in bottom for transport. Total weight is 72 lbs, bottom has handle and wheels so can roll like a suitcase.
– It also has a 1/4 wired mic input, and a 1/4 speaker output
– Only the top has a speaker, bottom is like a padded storage box for the top.
>> A Fender speaker w/ stand can be added to this podium. The cord from podium to speaker is 27′ long. costs $40 extra.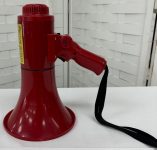 ---
PA Systems
Fender PD-250 Plus PA System
Perfect for groups of 300-500 people, the easily portable Fender PD-250 Plus gives you a six-channel mixer, specialized DSA speaker design, innovative feedback rejection system and luggage-style molded black case.
Weighs 53 lbs, 24.2″ H x 33.7″ W x 11.8″ D
Power output 250 watts stereo
Parts: 2 speakers, 1 mixer, 2-27′ speaker cables, 1 – MP3 adapter (fits iPhone 4S), 1-cable to plug in unit and 2 speaker stands = 9 parts
Microphone with stand is $13.65
We have 2 available.
The $100 deposit is a non-refundable reservation deposit, upon pickup it becomes a security deposit.
View more specs and pictures here
192.60 Daily
Plus $100 deposit
---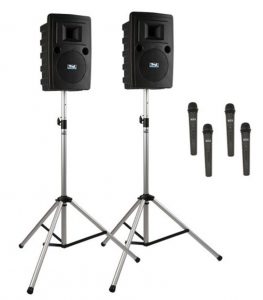 Liberty Battery Powered Sound System
The whole system is wireless, it runs on re-chargeable batteries, mics are all wireless, the system comes with 1 mic, either full size or over the ear.
– Additional mics are extra.
– You may connect your phone to speakers via Bluetooth or cable.
– Batteries last 6-8 hours per charge.
The system comes with 2 – 125 watt speakers on stands, 117 dB Microphone wireless range = 300′ + line of sight.
Mic inputs = Lo-Z, balanced, XLR & 1/4″
There's a 3.5 mm input for music from a cell phone for example.
Each speaker measures 23″ H x 14″ W x 11.5″ D & weighs 28 lbs
Air Frequency Range 902-928 MHZ
Reaches crowds of 1,500 people.
245.40 Daily
– Additional mics are $30.90
– $100 non-refundable reservation deposit is required
– Upon pickup the deposit increases to a $300 security deposit.
---
Projectors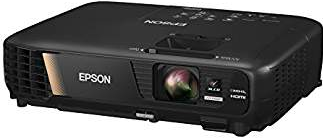 EX9200 Pro Wireless WUXGA 3LCD Projector
Pro-quality, wireless Full HD portable projector that supports 1080p.
-NEWER LAPTOPS WILL CONNECT WITH HDMI CABLE, OLDER ONES WITH VGA CABLE.
-THE PROJECTOR HAS VERY SMALL SPEAKERS INCLUDED, FOR A MEETING WE SUGGEST HOOKING UP SPEAKERS TO THE LAPTOP IS THE BEST METHOD. OUR PA SYSTEM WILL CONNECT THIS WAY. OR. OUR SOUND BAR WILL WORK FOR MEDIUM SIZE CROWDS.
Note: It's only wireless if you install software on your laptop, not worth doing for a 1 time rental. Cables are easy to hook-up.
View more specs and pictures here
103.25 Daily
51.62 each additional day plus $200 deposit

Kodak Cassette Recorder/Player
Overhead Projector
· To Display Transparencies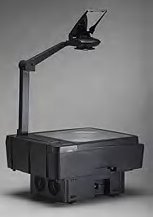 Portable Overhead Projector
· Folding Kodak
Opaque Projector
· To Display Paper
---
TV's
31.65 Day
94.95 Week
100 Deposit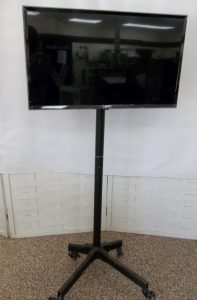 32″ Color HD SMART TV WITH TV Stand
Stop lugging around bulky TV's. This lightweight widescreen HD TV/Monitor and stand are perfect for karaoke. For added mobility, the stand is on wheels so once it's set up, all you'll have to do is roll it wherever you want it.
---
VCR's
---