We make every effort to keep our equipment properly serviced and always in peak condition. Careful maintenance and safety are top priorities for us. To keep our equipment as new as possible, we periodically replace inventory with new items. Unless specified otherwise, all items are in working order.
All items are subject to prior sale. Please stop in to inspect each item or get more information…
Page Last Revised March 14, 2023.
CONSTRUCTION
and LAWN & GARDEN EQUIPMENT
Please be aware, most of the equipment below is old, BUT, it has been well maintained
and it is still being rented by us. In Some cases new engines, clutches, etc have been
replaced already. Please come by and inspect the equipment before you judge it.
Cormidi Mini Loader Model C1500
Bought 3/16
New tracks were put on 2/22
Has about 1070 hrs on it.
Asking $10,000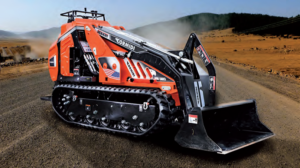 This Machine Weighs 3,307 Lbs With The Bucket, Must Go Out On Tilt Bed
Trailer or Larger, No Landscape Trailers.
Dimensions: Bucket Is 41.3″ Wide, Overall Length Including Bucket Is 112″, Max Height of Bucket Is 88.6″, The Outside Width Of Machine At Tracks Is 35.24″, The Tracks Are 69.7″ Long X 9.06″ Wide, The Minimum Height Of Machine Is 53.94″, The Minimum Length Of Machine From Folded Up Platform To Front Of Machine
Not Including Bucket Is 85.04″, Max Travel Speed Is 4.7 MPH
-Hi Flow Hydraulics Is 13.7 GPM @ 4061 PSI, Standard Hydraulics Is 7.1 GPM @ 2901 PSI
-It Has A 26 HP Tier 4, Kubota Diesel Engine.
-The Loader Is 35.2″ Wide, Bucket Is 41.3″, The Machine From Front of Tracks To Back With Platform Up Is 85.4″.
-Tracks Are 9.1″ Wide X 69.7″ Long.
– Machine Is 54″ High.
-Machine Shouldn't Be Used On Over A 15% Angle!
---
Honey-Do 2 PC Carpet Cleaners
Asking $400 each
Bought 4/00 AND 4/07
14" Walk Behind Saw
Asking $625
Bought 3/96 for $1,472
Small Woodchuck Stump Grinder
Asking $300
Bought 7/07
Appliance Air Sled
It is functional, has been taped up, don't know how long it'll last.
Comes With 4 Flat Sliders, 2- Panels For Moving Item
3- Plastic Tubes, 1 Motor & 1 Instruction Sheet.
-Lifts 400 Lbs. Needs To Be Plugged In.
Asking $120

---
PHOTO BOOTH
Photo booth with software, printer, props and more.
View details here.
Asking $3,000 or best reasonable offer.
GAS GRILL
Grill, 4 burner propane with lava rock on a folding stand. Cooking surface
is 16″ x 65″, made by Big John Grills.
It's working fine, still being rented. It has been well maintained.
Asking $1,200
Large Soft Serve Ice Cream and Frozen Yogurt Machine
Electro Freeze Model# CS4
Compact, gravity feed, single flavor soft serve ice cream machine.
Depth: 23-1/4″, Width: 16-1/4″, Height: 29-1/4″
More information, Picture – PDF
Asking $2,000
CANOPIES
None of the following come with stakes.
Used stakes are available for:
16″ Long "Candy Cane" style for $10.00 each
30″ x 1″ "Nail" style for $22.00 each
(Prices updated 5/1/23 due to rising costs.)
a 20′ x 20′ canopy requires at least 13 stakes
a 20′ x 30′ canopy requires at least 15 stakes
-20' x 30' Yellow and White Striped
Asking $600 each
#29 – 2008 – Black marks on inside. ASKING $500
TABLES
Wood Tables
3 – 8'
1 – 6′ x 18″ Seminar
Asking $40 each, either length
Plastic Tables
4 – 8'
Asking $30 each
CHAIRS
White Resin for $14 ea, currently 28 available
WHITE BAR
48″ Long, Has a top & middle shelf
Purchased 11/07
Asking $125