Carpet Cleaners
Hot Water, Brush w/Upholstery Tool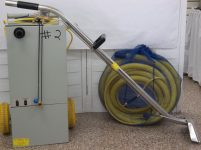 Hot Water "Cruiser" Carpet Cleaner
– It has a 3 Stage Vac Motor
– 4 gallon clean water tank, 6 gal dirty water tank
– Has a 25′ hose, this makes it easier to clean stairs.
– Weighs 40 lbs
– Measures 31″ H x 14″ W x 16″ D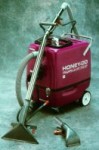 Hot Water, Honey-Do, Dual Vac
Upholstery Cleaner – Hot Water
---
Carpet Installation / Repair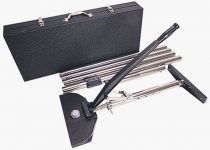 ---
Floor Cleaners
Burnisher, high speed – 20″
13″ Electric Floor Machine
The machine weighs 50.7 lbs.
Cleaning width is 12.9″
Solution tank holds 2.1 gal, recovery tank holds 2.4 gal
Electrical cord is approx 45′ long.
Can clean approx 600 sq.ft. per hour
Clean water goes in tank on right side when you are standing behind machine. Dirty water goes in other tank. To empty tanks, fold back top plastic cover with 2 vac hoses attached. Disconnect water hose by squeezing fitting at white pieces. Now unfold handle and lift up tanks, dump in toilet.
Blue brushes-best for marble & rubber tiles. will work on other surfaces also.
Red brushes-best for concrete, terrazzo, ceramic w/grout & vinyl tiles.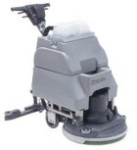 20″ Electric Floor Machine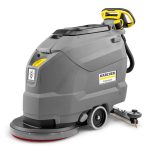 20″ Battery Powered Floor Machine
This is a Karcher Model BD50/50 C Classic BP
This unit will clean up to 13,200 sq ft per hour
Dimensions: 47″l x 21″w x 39″h, Weighs 171 lbs
Clean water tank & dirty water are both 13.2 gal capacity.
Brush is 20″ wide, suction bar is 33″ wide.
Operating noise level is 66 DBA
Brush speed is 180 RPM
Unit draws 1100 watts
Charging is complete when the lights are green and solid. -The machine has a safety mechanism to prevent total battery discharge. When battery gets low it turns off the brush motor and the turbine. At this point drive the unit to charging position. It takes 10-15 hrs to charge. Machine can't be used while charging.
---
Vacs
8 Gallon Shop Vac
  -Hepa Filter
  -Disposable Bag Liner
---
Tile Installation
Tile cutters, hand – 6″, 8″
Tile roller, 75 pounds
-Extra 50 lb weight
---
Floor Nailers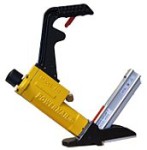 Air Nailer – Model 445
For 3/4″ Flooring
Requires air compressor and hoses, which we rent separately.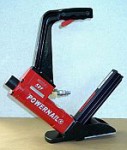 Air Nailer – Model 50P
For 3/8″ – 5/8″ Bamboo and Exotic Woods.
Uses 18 gauge nails.
Requires air compressor and hoses, which we rent separately.
Air Stapler – Model 445FS
For 1/2″ – 33/32″ Flooring
Requires air compressor and hoses, which we rent separately.
– We Sell Nails and Staples –
---
Floor Sanding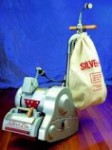 Floor Sander, Drum
(Plus Paper, $2.70 Each Sheet)
The Silver-Line SL-8 is the leader in rental sanders for one reason…it works! The SL-8 is the only machine on the market that will enable the DIYer to achieve the professional results the first time they sand a floor.
The SL-8 features a 1HP constant speed motor, soft rubber drum and our unique cam locking system. When combined they work like a professional sander. The sand paper is held between 2 spring loaded cams while the slow 1800 RPM constant speed of the drum will not gouge floors. The tilt action of the SL-8 also allows for a more controlled and even sanding. The weight of the machine is specially designed and evenly distributed for best results.

Edger, 7″ Disc Sander
(Plus Paper, $.90 Each Disc)
Under Radiator Sander
(Plus Paper, $.90 Each Pad)
The Silver-Line U-2 Unde radiator Sander is perfect for hard to reach areas. To operate, simply install a 5″ PSA disc onto the cloth face of the pad, plug the unit into a standard outlet and you can sand under baseboards, toekicks, porch railings, radiators and other projecting built-ins. The U-2 provides a .5HP motor offering you the power you need while the motorcycle style hand grips reduce fatigue and the ball type casters increase maneuverability.
U-Sand ® Floor Sander
(Plus Paper, $1.10 Each – uses 4 at a time)
A four-pad sander that utilizes random orbit technology, which allows for easy sanding of wood flooring. Unlike other commercial sanders, this will not leave unsightly swirl marks and drastically reduce the risk of damaging a floor. Operators of will notice a relatively dust free environment and can easily maneuver the sander with or against the grain. Even more impressive is that this one machine can do the job of a conventional sander, edger, and buffer!
U-Sanders no longer come with a bag. It'll be necessary to attach a shop vac to the sander to collect the dust. OR, we now have a Fire-Retardant Dust Bag available to rent for $13.25.
    – Shop Vac, 8 or 10 gal      $34.75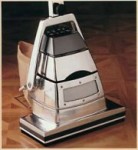 Deck Sander
(Plus Paper, $1.50-3.55 Each)
The finely balanced orbital action sands a smooth finish free from swirl and sanding marks