Bull Float, Regular – 20′ Handle
  Plus $20 Cleaning Deposit

Bull Float, Twist Lock – 20′ Handle
  Plus $20 Cleaning Deposit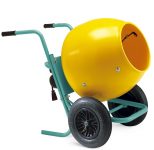 Cement Mixer, 2.5 Cubic Foot – Electric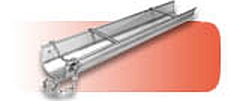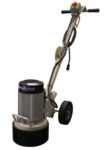 Magna-Trap® Turbo-Lite Grinder
Single 9″ disc, 110 v
Magna blades $55.10 / day one edge on each blade
Various Diamond blade types available for purchase, ranging from $60-$110.75 per set.
-Single and Double Dots Are For Removing Thin Coatings And Grinding Concrete
-Cubes (Strips) Are For Removing Hard Coatings And More Aggressive Grinding
Both Of The Above Leave the Concrete Relatively Smooth.
-PCD + Diamond Is Best For Removing Hard Coatings Such As Epoxy And Urethane. It Leaves A Textured Surface.
Soft Bond (Red – 30-40 Grit) Tooling Should Be Used For Hard Concrete(Old),
Medium Bond (Gray – 40-50 Grit) Should Be Used For General Concrete,
Hard Bond (Black – 60-80 Grit) Tooling For Soft Concrete (New).
Machine is 41″ long x 16 1/2″ wide x 41″ tall
Weight 91 lbs
Head RPM 1690
Max length extension cord is 25′!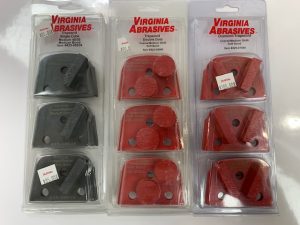 We have a few different diamond blades for
various applications. Prices range from $60-$110.75.
Prices subject to change.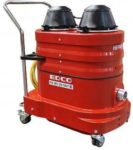 Edco Hepa Vac
Just $110.75 per day with grinder
– Helps exceed the OSHA Respirable Crystalline Silica Regulations
– Filters air to HEPA Standard – 99.97% @ 0.3 Microns Efficiency. Ideal for fine dust capture
– 2 HEPA Filters and 1 unique "MicroClean" Filter standard
– Built of Cast-Composite Material Lifetime Guaranteed Not to Crack
– Dual Motor Electric 110 Volt, 16 AMP
– 200 CFM, 13 Sqft of Filter Area
– Floor Cleaning Wand Kit and 25′, 2″ Hose Included


Concrete Dual Disc Floor Grinder
It runs on 110V, 50′ 10 gauge cord is wired in.
  Plus
– Stones – Purchased, set of 6
– Scarifiers – Purchased, each
Strip-Serts, Set of 6
Four sided carbide tipped blades are used for removing mastics, paints, resins, tar, fiberglass, ice and industrial buildups without damaging concrete. Includes use of 1 of 4 edges. Additional edges are $35.00 each.
Dyma-Serts, Set of 6
These are diamond segments welded to a backing plate to improve grinding speed and remove tough coatings.
They grind 5 times faster than grinding stones and last longer – up to 30,000 square feet (2,800 sq. m.) of grinding action. Dyma-Serts can be used for wet or dry grinding.

Cement Vibrators, 10′ Flex