Fender PD-250 Plus PA System
Perfect for groups of 300-500 people, the easily portable Fender PD-250 Plus gives you a six-channel mixer, specialized DSA speaker design, innovative feedback rejection system and luggage-style molded black case.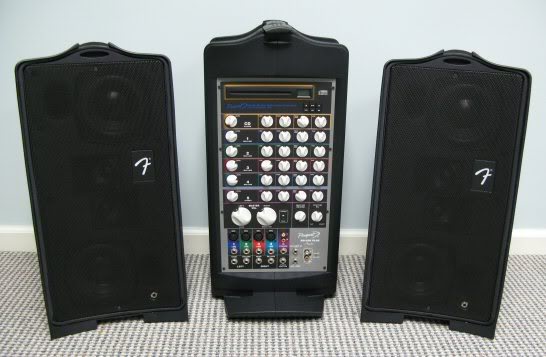 -Built in CD player, docking connector for passport wireless receiver
-Six channel mixer (4 mic/line, a stereo, 1 CD player
-Microphone channels 1-4 controls, level, low, high, rev/aux, pan
-Stereo channel 5 controls; level, low, high,rev/aux, balance
-CD player controls; level, low, high, rev/aux, balance, eject, play/pause, stop mode, previous track/rewind, next track/fast forward
-Master reverb control
-System EQ control
-System RCA Out(Record Out)
-Digital Reverb
-Unique one-touch controls
-Innovative deluxe speaker array design for superior sound in any application
-Extraordinary feedback rejection allows the speakers to be placed behind the user, eliminating the need for separate monitor speakers.
-35 mm (1 3/8″) speaker stand adapters are built into speaker cabinets
-Two 27′ speaker cables
-Detachable IEC power cable
-Switchable voltage power supply
-Mic/cable storage compartment with latching lid
-Compatible with passport UHF wireless accessories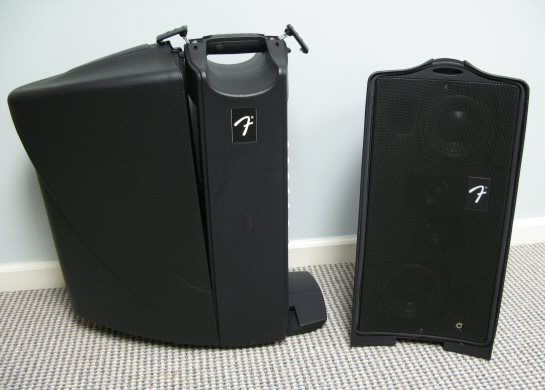 Weighs 53 lbs, 24.2″ H x 33.7″ W x 11.8″ D
Power output 250 watts stereo class -D, (2 x 125 watts), 8 ohms per speaker cabinet
Parts: 2 speakers, 1 mixer, 2-27′ speaker cables, 1 – MP3 adapter (fits iPhone 4S), 1-cable to plug in unit and 2 speaker stands = 9 parts
Microphone with stand is $12.75. We have 2 available.
$179.75 Daily Rental Plus $100 deposit
The deposit is a non-refundable reservation deposit,
upon pickup it becomes a security deposit.